PE-RT floor heating install:
Where product is found depressurized, stop use but contact the supplier for exchange, for JHPI's PE-RT floor heating products are sealed with internal pressure of 0.6MPa (6 KG). Where radiation heating floor is sized over 30 m2 or the long side exceeds 6 m, set expansion joints in packing layer, with an interval not above 6 m and width not below 5 mm; fill elastic expansion materials in the joint and separate them using expansion strip. Where floor layer can bear higher load or prevent crack, set reinforcing mesh on the floor heating layer, keep it 10-20 mm above the upper skin of plastic pipe, with the mesh diameter of 2-4 mm and mesh spacing of 150 mm or 200 mm. Firstly wash, pressurize the pipeline system, connect it to floor heating distributor before feeding water; it is recommended to install a filter at front of distributor to keep out the foreign matters. PE-RT is the copolymer of which copolymerization unit is ethylene – octylene. Control the number and distribution of branch chains on polyethylene molecular chain properly during polymerization reaction, in order to bring superior physical and mechanical properties to PE-RT materials. Where crosslinking is not required, PE-RT pipe fittings should have:
■ Good thermal stability and long-term resistance to pressure;
■ Excellent resistance to environmental stress and crack;
■ Good flexibility;
■ Resistance to low-temperature impact;
■ Good sanitary properties。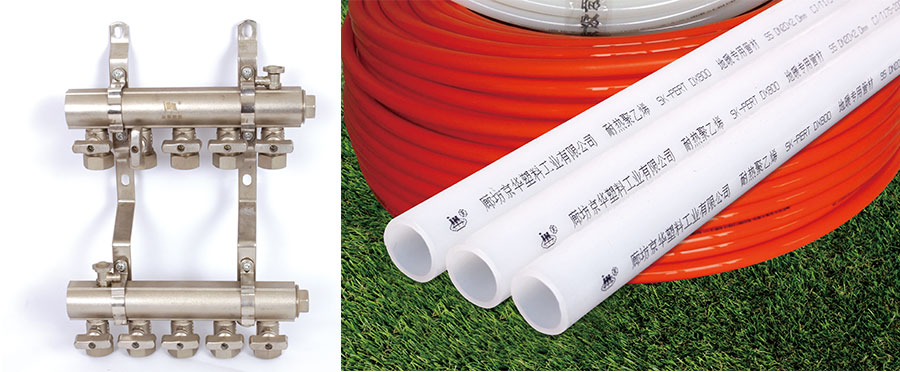 Features of the floor heating mainfold:
Mainfold is the distributing and collecting device connecting each heating pipes to supply and return water, which is an equipment of floor heating system and plays a key role in the system. It comprises water distributor, water collector and fixed support, including main pipe of water distributor and water collector, sub-regulator, vent valve, main pipe plug, wallboard, panel and other components. It is designed and manufactured according to the international technical requirements of floor heating, and accords with the new technical requirements for control system of floor heating in China. Its material is high quality copper, with nickel plating, resistant to rust, beautiful and practical. It can adjust the flow of sub-branch accurately and save energy in system operation. It is equipped with a visual flowmeter and a meter of temperature and humidity, which can visually check the running state of system. It has standard configuration, and the control components can be upgraded to automatic temperature control. It is scientifically designed and equipped with double sealing to ensure safety.
Principle: Thepipes are laid on the ground, the specific gravity of hot-gas is light, in theprocess of rising from the ground to the air, the heat is spread. The principleof floor heating is an emerging heating concept using this characteristic. Thisheating system avoids the defects of uneven heat dissipation of traditionalheating radiator and it is more economical and safer than air conditioner orelectronic heating devices.
Notes:
● After installation, the mainfold must passthe pressure test before it can be used.
● The installation site of the mainfold must beat the sewage outlet.
● The installation personnel of the mainfold shall haveprofessional technical training and be qualified before operation.
● Please install the mainfold correctlyaccording to the installation requirements. The company shall not beresponsible for any loss caused by failure to install according to the designrequirements.