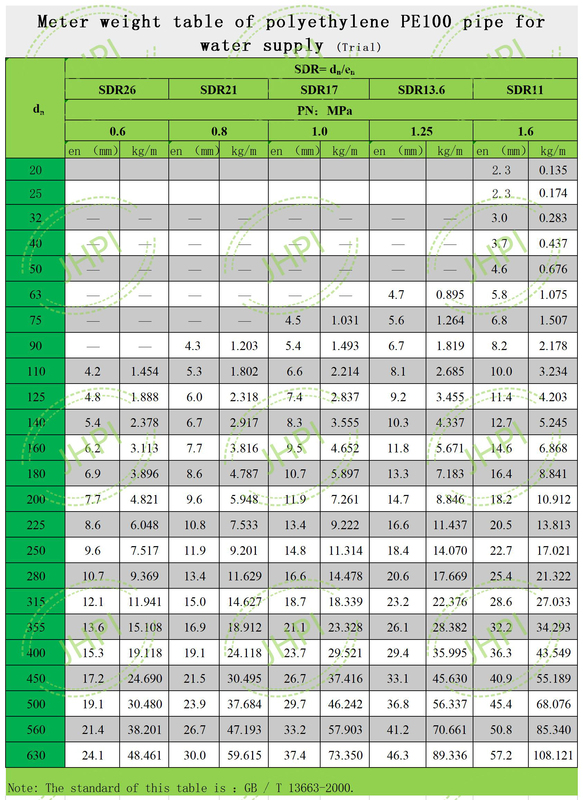 Product Features:
● Corrosion resistance
● Unique flexibility
● Excellent scratch resistance
● Outstanding low temperature resistance
● Well fracture toughness
● Safe and reliable connection method
● With light weight, easy to carry and convenient toconstruction
● Favorable environmental protection property
Application Fields:
● Urban water network system
● Urban and rural drinking water pipeline
● Liquid transport pipelines for chemical industry, chemical fiber, food industry, forestry industry, printing and dyeing industry, pharmacy, light industry, paper making, metallurgy and other industries
● Agricultural irrigation pipes
● Transport pipes of mine mortar


The welding steps of PE water supply pipes:
The welding of PE pipes can be divided into the following steps, which are very important, please pay attention to them.
● First, milling the roll rim or the flanged parts of the pipe and making sure the pipe ends are straight.
● When the PE pipe is welded, make sure that the axes of the two pipes are aligned, and fix the end of the two pipes by spot welding.
● When welding PE pipe and flange plate, you should insert the water pipe into the flange plate first, and then use the angle square to level the position after spot welding. Then rewelding, the flange plate shall be welded on both sides, and the inside welding shall not be exceed the surface of flange plate.
● When the thickness of PE pipe wall is above 5mm, a groove shall be cut to ensure through welding. The groove can be cut by gas welding or groove machine. And scraps and iron oxide on the should be removed from the groove, which should be polished with file until metal light is exposed.
● When welding the supply pipe, the rust, dirt and grease on the pipe interface should be removed.
● Flange pads should be selected according to the requirements of drawings and regulations. Rubber pads are used in cold water system and asbestos rubber pads are used in hot water system.