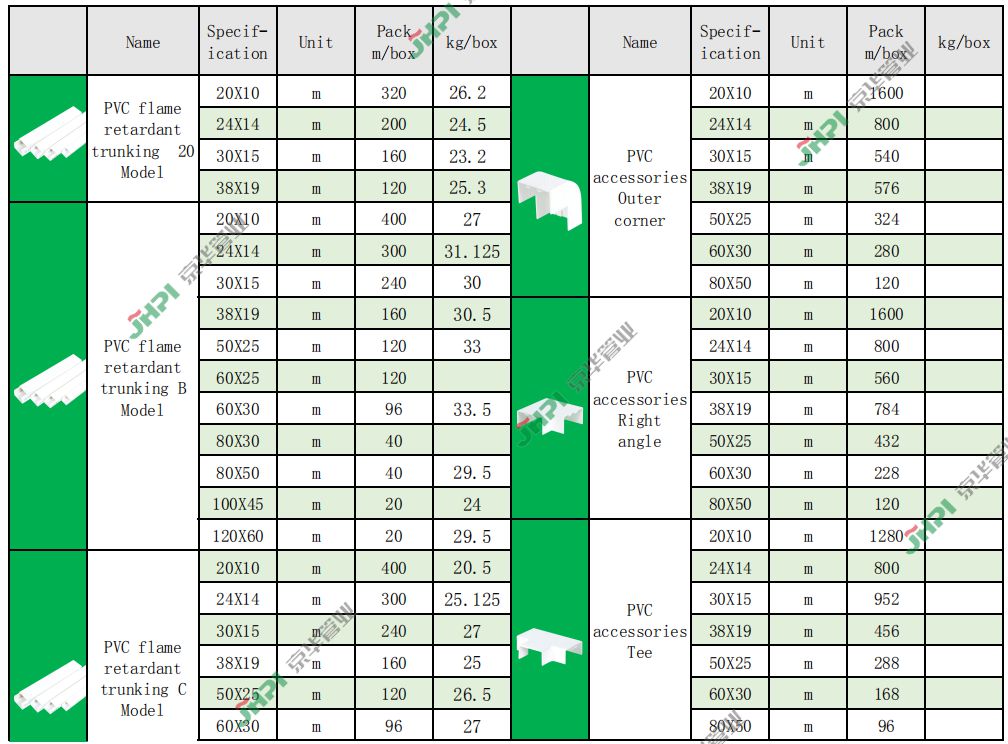 Main Technical Indicators of Extinguishing Products in <3S
The series products of Jinghua surface mounted refractory plastic trunking are designed and produced according to the standards of ICE1084-2-1:1996, QB/ T1614-2000(among which, the flame retardant property refers to the standards of GB/T2406-93, GB/T2408-96, GB/T2828-87 and GB/T8627-88), and all the main performance indexes reach or exceed the required standards.
project
I E C 1 0 8 4 standard requirement
Jipi product test results
Exterior
The inner and outer walls should be flat, free from air bubbles, no obvious impurities, and the sharp parts of the mottled and damaged wires. The product logo is clear and firm.
qualified
Impact performance
-5 ° C (2 h), 2.0 kg hammer, height 300 mm ± 1 impact energy 6.0J impact, at least 9 out of 12 no visible fracture and crack.
12 no cracks
Heat resistance
A steel ball with a diameter of 5 mm was applied with a force of 20 N at 60 ± 2 ° C and pressed against the surface of the sample. The diameter of the indentation on the surface was < 2 mm.
<1.6mm
Combustion performance
The time of the sample in the flame is as follows:


Extinguish within < 3S
Material thickness
Placed in flame time
≤ 2.5mm
2.5mm ~ 3mm

3 times in a row, 25S each time,

Interval 5S once 80S

Extinguished within 30 seconds after leaving the flame



Oxygen Index

Horizontal and vertical burning

Smoke density

According to GB/T2406-93, according to GB/T2408-96, according to GB/T8627-88
>40, 2408/I, FV- ○
Insulation performance
50Hz, 2500V, AC 60S without breakdown, insulation resistance not less than 100MΩ

qualified
Main features of products
High insulation:
The pipe can bear 2,500 V voltage and avoid electric leakage and shock. Good fire resistance: The self-ignition flame on pipe can be knocked down quickly after leaving fire source, with oxygen index above 40, to avoid fire spreading along with pipe. With low heat conductivity, the pipe can be well protected in case of fire, to ensure normal functioning of electric control system and personnel evacuating. 
Easy workability and handling:
Designed to be opened and closed repeatedly, the cover of exposed-paving flame-retardant plastic trunking can simplify the wiring and circuit change, and be easily handled for installation due to light weight. It can be sawn, cut or nailed, spliced or connected into the shapes needed using JHPI's accessories.
High resistance to corrosion and insects:
Trunking is resistant to general acid and alkali and insect.
Installation instructions
■Select the trunking and accessories as required, arrange the circuit on wall or ceiling in an exposed, concealed, horizontal, vertical, direct and indirect manner;
■Once trunking length is confirmed, cut it using a cutter and keep good smoothness and proper angle of fracture surface;
■Drill hole on wall, install the expansion pipe, trunking and ribbon, fix the screws, cross pipe and install the cover.
Table of Maximum Thread Number for Electrical Casing (Based on BVV Double Skin Wire)
Wire specification

(mm2)
Number of wires (strips)
20×10
24×14
39×19
50×25
60×30
80×50
100×45
1.0

6

10

24

36

42

120

138

1.5

5

9

25

33

34

98

117

2.5

3

7

15

24

25

78

88

4.0

3

5

11

21

21

54

68

6.0

2

3

9

17

18

45

50

10



2

5

8

9

24

30

16





3

6

7

19

22

25





3

4

4

12

16

35





2

3

9

11

14

installation diagram